The Internet is awash in posts looking back on 2018, but over here at Bommarito Consulting, we decided to give you something bigger, better, and different – a retrospective of the last four years, not just one! Long story short, we've been doing a lot of work behind the scenes for some blockbuster productions.
Since our blog went radio silent in 2014 (what about our single post in 2015!?), our team has been busy working with clients from the Fortune 10 to startup founders in industries from FinTech to FarmTech. Our deliveries have run the gamut, from organization, ideation, and sales to large-scale software development, tax strategy, and security assessments. The infographic below gives you an overview in a glance.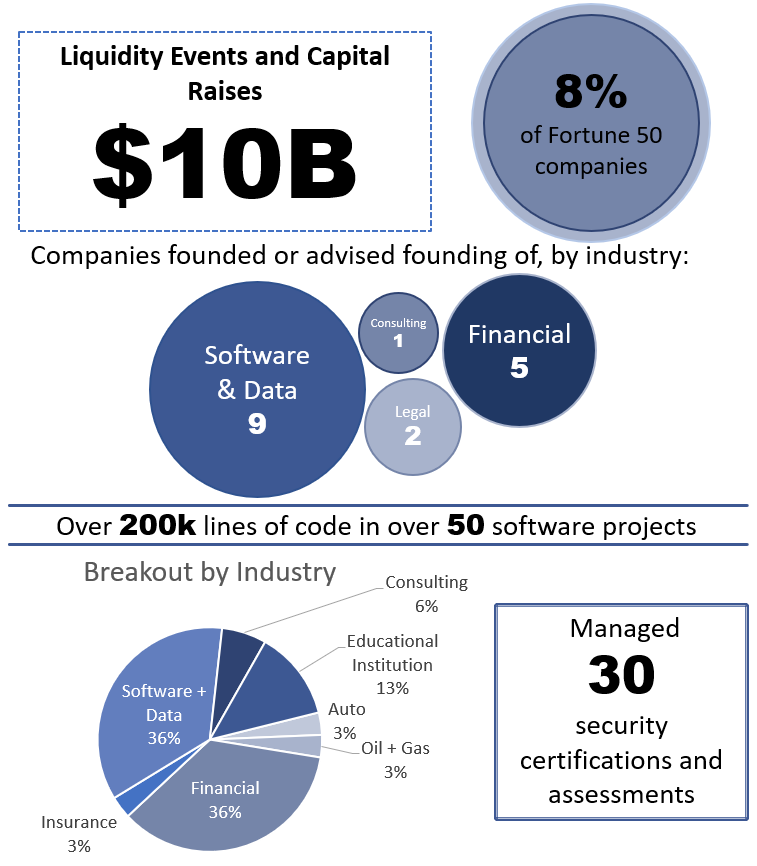 While the breadth of these activities may seem dizzying, it's easy to boil down when you take a step back – our focus has been on building, measuring, and capturing enterprise value for our clients and, increasingly, our own ventures. Most of these clients and projects don't get press releases, but some do – most notably, the recent acquisition of our privately-owned and self-financed legal technology business, LexPredict. Along the way, we've helped capture nearly $10B in liquidity events and capital raises over the last five years.

So, what's next? We'll soon begin sharing our "Built to Sell" series of blog posts, which will cover the ins and outs of building your business the right way(s). This blog has been quiet while we've been through the ups and downs of businesses large and small, but we're ready to share many paths and perils with you now.  Keep an eye out for the introductory post, in which we'll outline how you can prepare to build, measure, and capture enterprise value from the start.